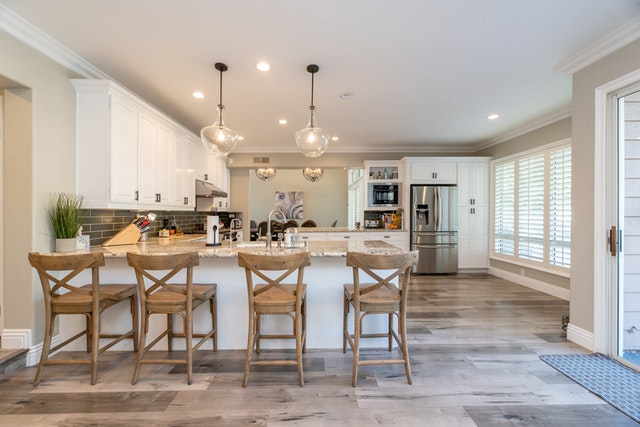 Home is the safest and comfortable place for anyone. Your home is like your life. In your life, you spent most of the time at your home in a relaxed ash stress-free mode. Your home gives you shelter for life which no other place can give you. In your home, there is also a place where you get the second necessity of your life-Kitchen.
The kitchen can also be called the heart of your home. For some people, the kitchen is like a paradise as they love to cook and for some, it's everything as they like to eat. So, adorning your paradise must be important for you.
Your kitchen floor gets maximum footsteps so it's a necessity to keep its flooring strong and beautiful. For that, you have to choose the best flooring for your kitchen. Hardwood flooring is the most popular flooring in Vancouver. Here in this guide, we will discuss the best flooring that your kitchen deserves.
Types of flooring for your kitchen
Numerous kinds of floor have been introduced in the past years. With time, new and beautiful flooring has been introduced. Not all flooring is great for your kitchen. Here is the best flooring which would suit your kitchen perfectly.
As discussed before the most popular flooring of Canadian is Hardwood flooring. Harwood gives your kitchen the desired look. However, some people don't use hardwood as kitchen flooring because of its expanding and collapsing nature during the rainy and the winter season. Hardwood flooring is preferred because of its durability and beautiful classy look. Maintenance of hardwood is simple. One just needs to sweep and mop the floor to keep it clean and in shape. The cost of Hardwood is quite expensive because of its solid nature.
It is the most versatile flooring option for your kitchen. Vinyl is a manmade material and is almost impermeable to water issues, stains, and other damages. Maintenance of the Vinyl floor is very simple, which involves vacuum or just sweeping and mopping.
Unlike the other flooring options, Vinyl is inexpensive. The floor is quite soft and comfortable on the feet. The flooring will come in large sheets and so installation of flooring requires accurate measurements and precise cutting. Vinyl is waterproof and stains proof and so cleaning the Vinyl floor isn't a task for anyone. Cleaning the Vinyl floor is super easy.
These tiles are also durable and long-lasting kitchen options. Natural stone Tiles can draw some buyers when it comes to putting your house on rent or while selling the house. Different natural stones have different features. Like, granite can be used in slabs of the kitchen, Limestone is pretty and can be used as the countertops and the most popular natural stone is marble known for its elegant look. Slate is sophisticated with maximum durability if maintained properly. The only issue with stones is they are receptive to stains and water penetration.
Porcelain Tile is one of the best options for your kitchen flooring. Porcelain can easily sustain spills and it's almost like a natural stone. The tiles are unbelievably durable, waterproof, and stain-resistant. The porcelain floor will give your kitchen an incredible and classy look. Porcelain tiles need proper maintenance and without proper cleaning, the tile can cause spillage.
Cork is a resilient type of floor that can be opted for your kitchen floor. The flooring is derived from tree bark. The cork flooring comes in natural shade. There are colored versions of the cork flooring that creates a subtle finish. Cleaning the cork floor is simple but if you notice any spills or stains wipe the floor immediately.
Bamboo Flooring can look similar to, Hardwood but the tile is much harder than the hardwood. However, it can look different if the color and the pattern of the bamboo differ. Bamboo flooring is moisture-resistant and unaffected in water damage. Bamboo floor can be used as an eco-friendly floor. The floor completely resembles hardwood when it comes to features and even looks.
After discussing the options Hardwood tiles and vinyl tiles can prove to be the best tiles for you. If you are from Vancouver, you can get a variety of flooring from their store.
Things to consider while buying your kitchen floor
There are a lot of factors to consider while you are buying a kitchen floor. Here are a few factors you should consider before buying. Find a flooring store in BC if you stay there.
You can choose the floor according to the theme of your home. If you are a fashion freak person and want your kitchen to look damn good marble tiles can be an option. Marble gives your floor a classy look.
If you rush to your kitchen and remain there for a pretty long time barefooted you will need your tiles to be more comfortable and softer so that your feet can feel the softness. Vinyl floors are best if you want smoothness under your feet.
After spending a long time in the kitchen, no one would want to clean their floor which would be much tiring. So, it is better to buy tiles that are very low maintenance.
Buy the tile according to your budget. First, decide your budget and see which kinds of tiles are available, only then hit the shop.
There is no doubt about the fact that the kitchen is the most used room in your entire house. Spills drops, stickiness, stains are quite common on the kitchen floor. Your kitchen floor has to go through a lot of harshness every day.
So, strong and durable flooring is highly recommended for every kitchen floor. The options given in this guide are selected from an expert's advice. In British Colombia, there are enormous stores of flooring. If you are from the place and want to change your flooring hit in the stores of British Colombia and explore a variety of floorings. 
YourSavings.ca was not involved in the creation of this content. Information contained on this page is provided by an independent third-party content provider. YourSavings.ca makes no warranties or representations in connection therewith.