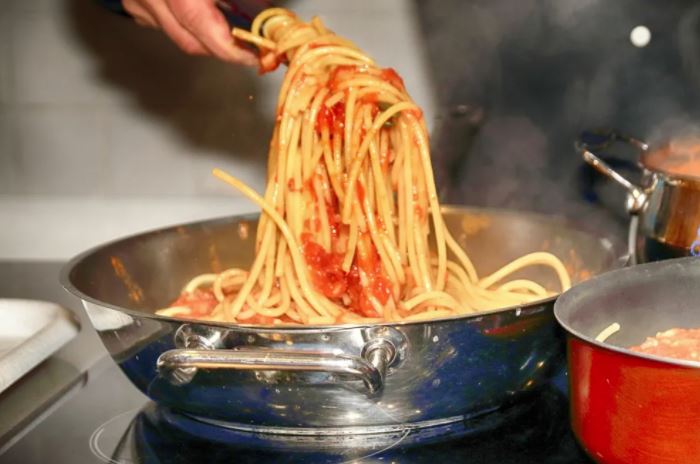 The Bucatini are a type of long pasta similar to big pierced spaghetti, typical of the city of Rome that combines them with strong and simple condiments (Gricia, Amatriciana, Carbonara). It is a pasta made from durum wheat semolina. Cooking time is more or less the same as spaghetti because, even if they are bigger, the water passes through the central hole (during cooking), which allows it to cook quickly enough.
The condiment par excellence of this pasta format is Amatriciana: a sauce made with Guanciale and Tomato.
The history of Bucatini is fascinating and its origins are closely linked to the Sicilian territory. A pasta format created for a practical reason, which over the centuries has become one of the most famous protagonists of Italian cuisine. Bucatini, not only Amatriciana.
The Bucatini, a long pasta pierced inside, are born from a simple necessity: to favor the correct cooking. For the medieval pasta makers, without an efficient drying system, pasta cooking took from biblical times, with results that were not always satisfactory. From there the idea of ​​rolling the dough around a stick in order to make it hollow and favor its perfect cooking.
The homeland of this special type of pasta seems to be Sicily. The famous chef of the time Martino da Como in his work De Arte Coquinaria, about which we have spoken in another article, tells about "maccaroni siciliani", describing in details the process for the creation of Bucatini.
The Bucatini have spread over the years in all that has been the Kingdom of Naples, so that even today in many kitchens of the South of Italy you can still find a ferretto square section that ease the extraction from the Bucatini. Even the musician Gioacchino Rossini, who considers himself a great cook, loved this format of pasta: so much that he asked a Parisian goldsmith to make a custom-made silver syringe for him, to fill the Bucatini with goose liver and then boil them in capon broth. It is however known that the luck of this type of pasta was the condiment all'amatriciana that enhances the ability to retain the sauce, for a truly inimitable result. The Bucatini still today is one of the icons of Italian kitchen, as well as one of the most tasty and satisfying types of pasta.
This recipe is brought to you by: https://www.pizzacappuccino.com/bucatini-the-typical-pasta-of-the-city-of-rome/